What is Gwentrex?
Gwentrek is the ultimate expedition challenge for Scouts and Explorers in Gwent. It is usually held in September and involves hiking, camping overnight then hiking again. Teams arrive from 5.30pm on the Friday and it finishes about 3pm on the Sunday. In 2015 it involved a 15km walk on the Saturday and 5km walk on the Sunday.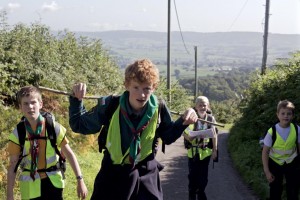 It's all about being self sufficient, walking against the clock in teams with or without leaders.
All you have to do is take part in the expedition, take on the bases, cook, camp and navigate for yourselves – do this with as little leader support as possible to earn the maximum points and win the trophy.
Gwentrek
Ages 10-13, teams of 4 to 7.
A great way to experience Gwentrek from the new to the seasoned Scout. Leaders can accompany their teams around the route just for peace of mind. This level of the competition is designed to get new people involved and the chance to get some experience, in a few years they will tackle GT+.
Gwentrek Plus
Ages 10-13, teams of 4 to 7, leader-less
Take on the challenge of GT+, teams compete without leaders for the whole weekend. Feeling independent, feeling lucky? Teams will be expected to compete on the GT route and be self sufficient.
          
Gwentrek Extreme
Ages 13-18, teams of 4 to 7
Take on Gwentrek Extreme, a specially designed route for the slightly deranged. This is for older Scouts and Explorers that feel the need for a real challenge, are you tough enough?
Kit List
Gwentrek- Assisted 
The assisted team do not need to carry a tent, sleeping bag or cooker.
Please pack the following in a small rucksack for the hike-
Compass, whistle, small first aid kit, ( leaders have a full kit)
Bivi Bag, foil blanket, pencil and pad, tissues
Waterproof trousers and coat. Hat and Gloves. Necker to be worn
Change of clothes
High viz jacket
Filled water bottle
Head Torch and spare batteries
Emergency rations(chocolate bar etc) this will be checked on return
Please pack in a separate bag
Sleeping Bag, nightwear and thick fleece
Torch
Plate, cutlery,mug and tea towel
Wash bag and any personal medication.
Gwentrek Plus- unassisted
As well as carrying their personal kit the team will need to carry a cooker, gas,food,tent and first aid kit between them. Items should be packed in dry bags to help keep items from getting wet.
Kit List
Necker
Waterproofs –coat and trousers are mandatory
Walking socks
Full change of clothes to include 2 spare walking socks,High vis vest
Sleeping bag- small as possible- a liner/thermals are easier to carry than a bulky bag.
Roll mat
Head torch plus spare batteries and small hand torch
Emergency rations
Mess tin, spork, mug, tea towel, wash up liquid,scourer
First aid kit
Pen knife
Map, compass, map case
Whistle
Survival bag or foil blanket
Striker or windproof matches
Small pencil and pad
Bin bag -(large enough to fit rucksack in as rucksacks will not fit in the tent)
1 Litre of water
Liquid hand sanitiser, any personal medication, toilet paper and toothbrush, blister plasters.
Lunch
A packed lunch that is pre made and brought with them on Friday for the Saturday hike is also a necessity.