The Centenary Hall was built in 2009 to replace the former Scout Hut and all our sections use it. We are very lucky to have such a fantastic facility and we like to share it with the Community.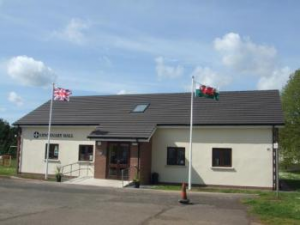 We hire out the building for £10 per hour (morning, afternoon or evening) and there are discounts for regular bookings and members.
Address: Maryport Street South, Usk, Monmouthshire, NP15 1AD
Contacts:
Nigel Meeks – Telephone: 01600 860115
Paul Glencross – Telephone: 01291 673742
About the Hall
Ideal for all meetings and parties. It has ample parking. There is a young children's play area and playing fields adjacent.The Hall has been finished to high standards and includes a kitchen.The Hall has a bouldering wall (traverse climbling) suitable for under 18's.
To book the the hall please contact Nigel or Paul. Click here to view availability.